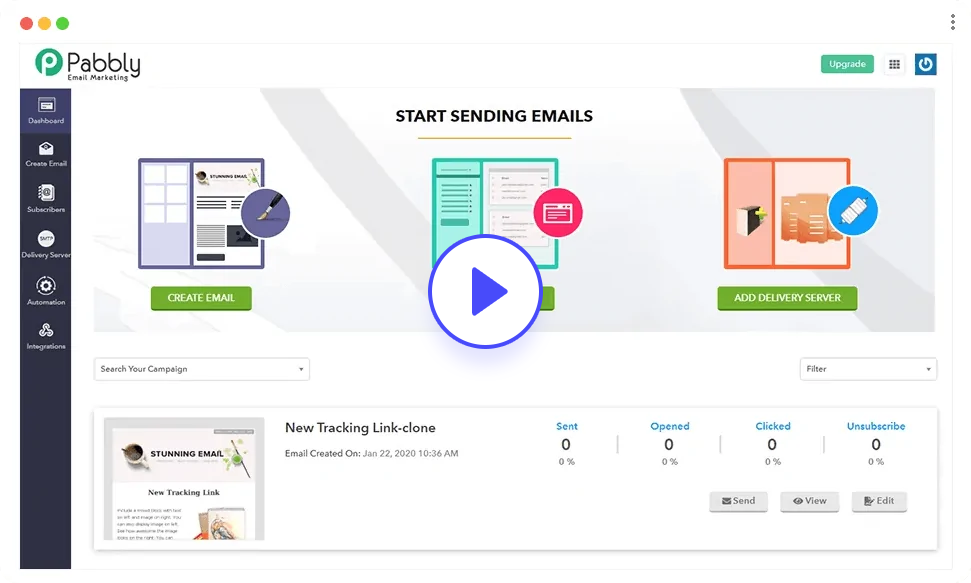 marketingtools
Pabbly Email Marketing Features
Jan 7th, 2021
Pabbly Email Marketing Features
If you are dealing with a large-scale business and you are a beginner as well. Then, it would help if you needed software to meet your needs. Email marketing services have their own role in promoting the business with a profit margin in online earning. The pabbly email marketing is one of them and lets you send the bulk emails via SMTP. However, it's not an easy job to manage your account alone. That's why we offer you many email marketing programs to choose the best one for you. The features of pabbly email marketing are more profound and comprehensive when managing and enlisting the subscriber's emails.
1. Pabbly Email Marketing
2. Email Verification
3. Subscription Billing
What is the effect of pabbly on your business?
The tool is automated, and you can manage your workflow without any worry. You can build a strong relationship with your visitors by acknowledging them via emails and quick responses. The other benefit of this service is its automatic integration with built-in SMTP. Otherwise, you can attach an SMTP externally to get started with this tool.
Pabbly Email Marketing, Email Verification, Subscription Billing According to Experts

Well, we are going to discuss Pabbly in more in-depth detail to let you buy this particular software for your system. Its affordable packages and well-organized service will let you use the tool without any hassle. The pabbly marketing reviews are no more different from the facts of this software. Let's have a look at its various segment for better assessment.
1. Pabbly Email marketing
The pabbly email marketing tool will help you to communicate with your clients timely. You can send the bulk of emails to maintain your workflow, and it won't disappoint you in crashing sometimes. The service is beneficial for the companies dealing with an overseas clients. You can send emails to your subscribers to organize your traffic and to maintain your production detail. You can personalize the emails by using the personal detail of your client. The best part is that you can use the detail separately on each email. If you have users more than 500 then, you must buy its subscription form. Moreover, its monthly plan is available for \$ 29, and you can also get a free subscription for 12,000 emails to 1.1k subscribers.
Main features
• Its an automated marketing tool
• You can manage your spam and other emails via MS cleaner.
• You can resend the email automatically from the same folder.
• You may get a subscription form when users are more on your page.
• You can personalize the emails.
Conclusion
The pabbly email marketing is one of the fantastic things that I could come across in my life. It's a very comprehensive email managing tool, and you can get precise and quick communication with your clients.
2. Pabbly Email verification
An impressive service to separate spam emails from the others is Pabbly email verification . You can request a ping to the server at a slower rate, and automatically you will be detailing your account with authentic and subscribers' emails. The tool will confirm the domain from your checklist and would differentiate and delete the emails that would be not from your mailing list. Moreover, it will remove the duplicate emails and eliminate the complaints that match the data list. Thus, you can define your account with a tremendous and impressive marketing progress report. The service will save you time and will do your work automatically. You have to make a list of your subscribers to get their full benefits.
Main features
• It separates the spam emails from your accounts.
• The MS cleaning option will remove the unwanted emails.
• The duplicate emails will be removed automatically.
• The complaints will be eliminated.
• You can manage your account without any worry.
Conclusion
The email verification is one of the most incredible parts of this service. Thus, you can manage your spam and wanted emails with its automated workflow. You don't need to spend hours working on your account. It will be done automatically, and you can experience the best and ideals tool for marketing purposes.
3. Subscription and billing
The Pabbly Subscription and Billing is an essential tool to watch your billing and selling options. It will take care of your billing details and the tax charges on your final payment. The integrated marketing application will allow you to mark the prices with some affiliate programs and get the unlimited benefits of this tool in managing your tax charges. The service will reverse the tax charges on each billing detail, and you can manage your production effortlessly. Thus, it will help promote the business with many latest and advanced selling options. The tool will trace and drive your products' prices, and you can increase your productivity by comparing your competitors' prices.
Main features
• The price for one month is \$9
• It offers a limited free subscription for the clients.
• You can get 2 to unlimited affiliate programs along with the buying package.
• It is totally automated.
• Can track and manage your billing options with expertise
Conclusion
The pabbly subscription and prices are more comfortable and detailed email marketing service for the users dealing with big setups. It will manage the billing and tax charges and help you detail the business with reverse costs on tax payouts.
Why Pabbly for email marketing?
Pabbly email marketing service is one of the well-known marketing tools to detail business opportunities. You can manage your workflow, and you can get the latest and new ways of business development. The service will help you in dealing with various plans and ideas to integrate with other platforms. Thus, you can manage your account detail for getting unlimited profitable growth. Let's talk about its gross feature to help you in buying the software without any effort.
Automated service to manage the billing options
The service is fully automated, and you can send the bulk emails in a single go. The service will help separate spam and unwanted emails. You can manage your account with a powerful vision. The user visibility will be more in the market, and you can communicate with your clients with ease. The comprehensive approach will increase your subscribers within time, and soon you may be getting the qualitative business development. The service has the option to take care of the billing and selling ratio. You can manage your billing detail by reverse the charges on tax calculations. It will automatically calculate the tax for the specified product. Thus, you can sell and buy the product with ease. Can create multiple plans and products You can create multiple plans from the Sigle service, and it's the primary feature of this tool to help and locate the business opportunities in the market. You can find the new trends, and it will enable you to determine your profitable ratio. The business will get the boost-up plan, and you can launch multiple products in the market.
Price and packages
There are four packages of this multi-purpose tool, and for your convenience, I'm mentioning them here.
• The starter plan is available for \$ 9 per month with 50 customers.
• The rookie plan is available for \$ 17 per month with 100 clients.
• Pro plan is available for \$ 29 per month with 150 clients.
• The expert plan is available for \$ 37 per month with 250 clients.
Thus, you can buy the one that could help you with more benefits.
Other Pabbly Products are you can check here:
Pabbly Connect (Yearly Plan - \$497)
Pabbly Plus
Pabbly Connect
Pabbly
Review Directory Platform
MailGet Bolt
Pabbly Form Builder
FormGet
Conclusion
The pabbly email marketing service has opened new ways of innovation and online earning sources. However, you can manage your account by empowering the business detail with this tool. Its segments and tools will help you in locating the more advanced business development. It's an automated tool, and you don't need to watch the minor business issues. It will be resolved itself, and you can get the promotions with unlimited customers.
All Products